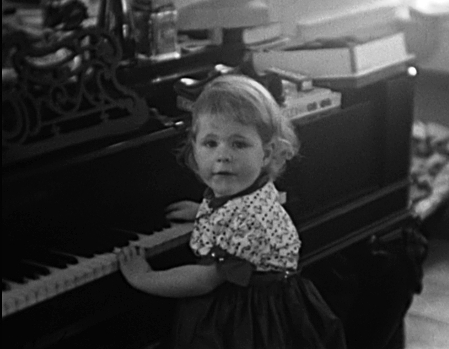 The craving started for me in the Harmony Baptist Church on the east side of Detroit. Re-fashioned from an old bank building, the main room on the first floor appeared to be a regular church auditorium. At the front, an organ stood on one side, a piano on the other. The preaching happened in the center.
Sunday school was held in the basement. A half-dozen tables were set up in groups of two with little chairs around them. An old upright piano placed against the center wall served no purpose except to entice me.
We children had our Sunday School lessons downstairs and the adults upstairs, and then we all met on the main floor for the preaching service. As soon as it was over, I ran back to the piano in the basement. Grandma usually spent a half-hour or more talking to lady friends before we had to board the church bus to be taken back to our homes. It was treasured time to me. I ran back downstairs to be alone with the old piano.
At three or four years old, my height was such that even standing on my tiptoes, my nose came even with the keys. I would play until someone came to get me.
I didn't really play the piano, but I played with it. The keys were like magic to me, making beautiful sounds. One of my most frequent daydreams was to be rich enough to have a piano in my very own home.
Life went on. My church grew large enough to build another home, one without an extra piano. At nineteen, I married a soldier. After my husband left the Army, and we moved back to Detroit, we rented an upstairs flat from my friend, Carol Summers, now Carol Wheatley. She had a piano…right in her own home, and she gave lessons. I didn't live there long enough to become proficient, but I learned enough that I wasn't ashamed to play in front of someone. A life-long blessing. Thank you, Carol, for that gift.
When we bought a house in the suburbs, the last thing we could afford was a piano. It was around 1971, when my daughter Melanie was eight that the miracle happened. My father-in-law moved in with us, and Melanie told her grandpa she wanted a piano.
"We'll go buy you one," he said.
Off we went, first looking at used pianos. None of them was good enough for Lonnie Mabry, Sr.'s granddaughter. She was, after all, the most important child in the world. So we went to Grinnell's. He bought an ebony Cable spinet for $800.  and scheduled delivery.
When we got home and told Melanie's dad what we'd done, he said, "No. I can't let him spend that much money."
My head nearly exploded. "Let him spend the money," I pleaded.
"No! It's too much."
Normally, he always had the last say. Wasn't that what I promised in my vows, to obey? But really, people, this was a piano at stake. Technically, it was for Melanie, but in my heart, I was that little four-year-old girl standing on her tiptoes in the church basement, and he was telling me that it wasn't going to happen. I grasped his shirt, got right up in his face, and growled, "Let him spend the money."
"Go ahead," he said. I think I must have scared him.
So, we had a piano in our home. I bought the red Thompson book, "Teaching Little Fingers to Play," and taught Melanie everything I knew. Then we got her a real teacher. She was a natural, having the one thing her mother did not possess…talent. She must have got it from her father's side.
When her brother turned twelve, I told him, "You're going to learn a musical instrument, what do you want to play?"
"The piano," he said.
I taught him everything I could and then got him a real teacher. He also had the Mabry gift, and now he teaches and his son plays.
In my home now, I have an ebony K.Kawai baby grand, formerly owned by Wes Winters, the handsomest and most gifted all-around entertainer in Las Vegas. It tends to get dusty. I use most of my keyboard time on the computer.
But, I have a piano right in my very own home, and to me, that means I'm so, so rich!!